新不了情 MV


Sweet Mtv
This is romantic and perfect song. This song quite old, but the lyric is very meaningful. Please look and listen carefully. I am sure you will keep repeating this song once you finished it.
Such as a nice song, I really don't hope you can miss it~
Anyone who never listen this song before, please take a few minutes with me to listen such a nice song~
Gary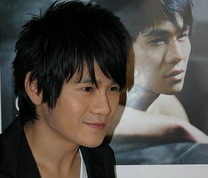 You know this hero? Gary, he is fantastic
Obviously, Gary is an absolutely awesome singer. He is our Malaysia's Hero, why not you listen the way he sing?
He has a nice voice and tone. And I know some background from him. He loves to sing since he was 12 years old or more than that.
The one who gave him much confident, support and let him know that he has an ability in composing the song is the manager of Aaron Kwok.
Gary flew to New Zealand with his partner (I forget the name d). After that they composed some songs at there, suddenly have a Thailand guy come towards to them and the Thailand guy said that he knows Aaron Kwok and very close with him, what will you think? If a Thailand guy suddenly tells you that he knows Aarow Kwok? (I also can say that I know Jacky Cheong lo, but he don't know me only mar) So as what will you think, same as Gary and his friends too.
They thought that was just a kidding and fool. After that, they decided to give him some songs to have a try (may be that Thailand guy is real ler)
After a few days, they flew back (Don't know where d, I think is Taiwan)
Suddenly, Gary phone was rang, and he was very happy because the manager of Aaron Kwok was calling him, and said that they decided to buy the copyright of those songs that composed by Gary and compliment that songs was perfect and nice as well, and they told Gary that he has potential in composing the song. Gary and his friends flew back to New Zealand and signed contract. They never meet Aaron Kowk's manager, they contact via e-mail and phone )After that days, Gary tried to sing with his song which composed by himself. Till now, as I know he becomes a famous singer in Taiwan, Malaysia, I think not only that, even whole Asia.
So guys, if you have potential in doing something, please don't give up, and set it as your target. You may success in one day. Who knows rite?
曹格-新不了情


Awesome!!



Awesome... So freaking good....
PS:First song is sing by "zhong wei" who was very pity and decided to forfeit himself in "Superstar Singing Contest at Taiwan" On what his mistake in cheating case. He is freaking good, and sing perfectly. I hope "Zhong Wei" can continue to sing in the future. I very respect him on his brave to apologize to many people in such a big stage. "Zhong wei" Jia You! we will support You, Keep it going !

Zhong Wei

You will cry after you seen this clip


Pretty song by him~~~ Pretty Song+Nice Voice=Fantastic